Wendy McCaig–Embrace Richmond, Richmond, VA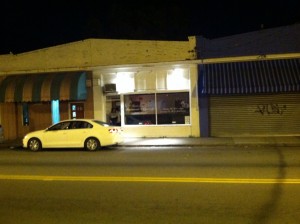 Since April, a small group of us gather on Thursday's at 12:30 and pray for a distressed four block commercial corridor along Brookland Park Boulavard.   While more than half of the buildings are abandoned, there are still a handful of merchants trying to make it in this very challenging business district.
One of these merchants is Francis who opened up a restaurant called "From the Hart" this summer.  From the Hart was the first business to open up after we began praying, so I believe we prayed her into the neighborhood.  For this reason, or perhaps it is because of her homemade banana pudding, From the Hart has become very near and dear to my heart.
Every week when we stop by and ask Francis how we can pray for her, she lights up.  About a month ago I was taking a group through the community and Francis shared that she would really like the city to put up more street lights or at least fix the broken ones closest to her store.  The one across the street was broken and the one down the block flickered off and on.  She had no light near her store and she felt customers were scared to stop in the evenings.
Last week Francis store was broken into and the thieves stole several items before the police arrived in response to the alarm.  Francis was upset and wondered if this location would ever yield a profit.
On the day Francis shared her prayer for lighting, a wonderful man named Ken Hurst was in our group.  This week, God used Ken to answer Francis prayer.  Rather than call the city about lighting, which Francis has been doing for six months, Ken called an electrician, purchased some flood lights, climbed on a ladder and lit the front of Francis' store front.
This picture of Francis' restaurant glowing brighter than all the other shops on Brookland Park Boulevard, warmed my heart.   As asset based community developers, we continually ask, "What can we do with what we have?"  Crime seems like such an overwhelming issue that most defer to the police or the city for answers.  However, if instead we responded like Ken and simply did what we can with what we have, I think we would be amazed by the impact.  I believe we could bring light to a dark world.
"Let your light shine before men, that they may see your good deeds and praise your Father in heaven." Matthew 5:16
Please continue to pray for Francis and for all the merchants across this country trying to build small businesses in the abandoned places of our nation.
Posted with permission from wendymccaig.com.  See original post here.