From the blog of Wendy McCaig, Director of Embrace Richmong
 Posted Aug 12, 2013 on wendymccaig.com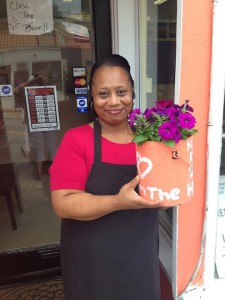 When Frances closed her restaurant last winter and then endured all the trails I shared in Part 1 of this series, I watched her begin to let go of her dream.  It was not until she fully released her restaurant that she began to experience the journey toward restoration which I shared in Part 3 of this series.
I don't really understand it, but letting go, giving in, releasing always seems to lead to a spiritual breakthrough. I recently read these words in my "Inward/Outward" daily devotional written by Kayla McClurg
""Do not be afraid, little flock…." Simply sell all that you own. Relinquish everything, and give. Fear attaches to things we cannot release, a ruinous mold spreading in the dark isolation of our grasping and clutching. Fear erodes the realm God wants to give us. In his teachings, Jesus shines a healing light upon our minds and hearts to clear the mold of fear away.  Living expectantly, unencumbered and light, we are more apt to be on the path that gives God/us pleasure."
I believe that this kind of letting go is exactly what Jesus was calling us to do in Mark 8:34-35,
"Then he called the crowd to him along with his disciples and said, "If anyone would come after me, he must deny himself and take up his cross and follow me. For whoever wants to save his life will lose it, but whoever loses his life for me and for the gospel will save it."
Frances told me the week she re-opened her business that during that season in the desert of despair, she came to realize that the restaurant was not hers.  She released it and gave it back to the Lord.  Since that releasing, she has been inviting others to be a part of the business in ways that are not always comfortable.  She welcomed me and a team of volunteers to help her with her business plan.  She welcomed volunteers to come and help her keep the doors open because she can't afford to hire help.  However, the most generous thing she has done is to open her business up to be a training site for our Embrace Richmond interns.
Over the past year we have heard repeatedly that one of the greatest needs in the area is for economic opportunities for young adults.  Six weeks ago, Frances agreed to partner with Embrace Richmond to launch an 8 week internship for youth 16-25 who live in the community.  Embrace is funding the cost of the internship but Frances is creating the opportunity for the young people to gain experience and skills that they need to succeed in life.
Marilyn Williams had dropped out of school and was working toward her High School diploma when we first met her. Marilyn was referred to our internship program by the Director of the Dream Academy, a High School Recovery Program.  Marilyn worked hard to earn her High School Diploma and was tutored by our Board Chair, Don Reich, who saw tremendous potential in Marilyn.  Everyone who met Marilyn saw that this young girl was doing everything in her power to get her life moving in the direction of her dream of becoming a lawyer.  She will begin classes at a local Jr. College this fall.
Through the internship, Marilyn is working 10 hours a week at From the Heart Restaurant learning customer service skills, cashiering and marketing.  Marilyn came up with the idea of doing "Taco Tuesday's" and has become a valuable member of the From the Heart Team.  Her time at From the Heart has been such a blessing to Frances that she is hoping she will be able to hire Marilyn as a permanent team member when the internship is over.
Because Frances choose to release her business, Marilyn and all of us who have had the opportunity to get to know her, have been blessed.  Marilyn is just the first in what we hope will be many young adults who participate in this internship opportunity.
Next week Marilyn will move into the final stage of her internship. She will become the trainer.  Her trainee will be Thristian Green, a 16 year old resident of the neighborhood.  Marilyn's job will now be to train Thristian and help him gain the skills she has learned during her first six weeks.
Our long term dream is to be able to partner with multiple businesses on Brookland Park to create even more opportunities for youth and young adults from the neighborhood.  Please pray for this internship program and the funds to keep it going.   Please also pray for Marilyn and Thristian as they each move into a new phase of their vocational journey.   If you would like to donate toward this program today, click here.